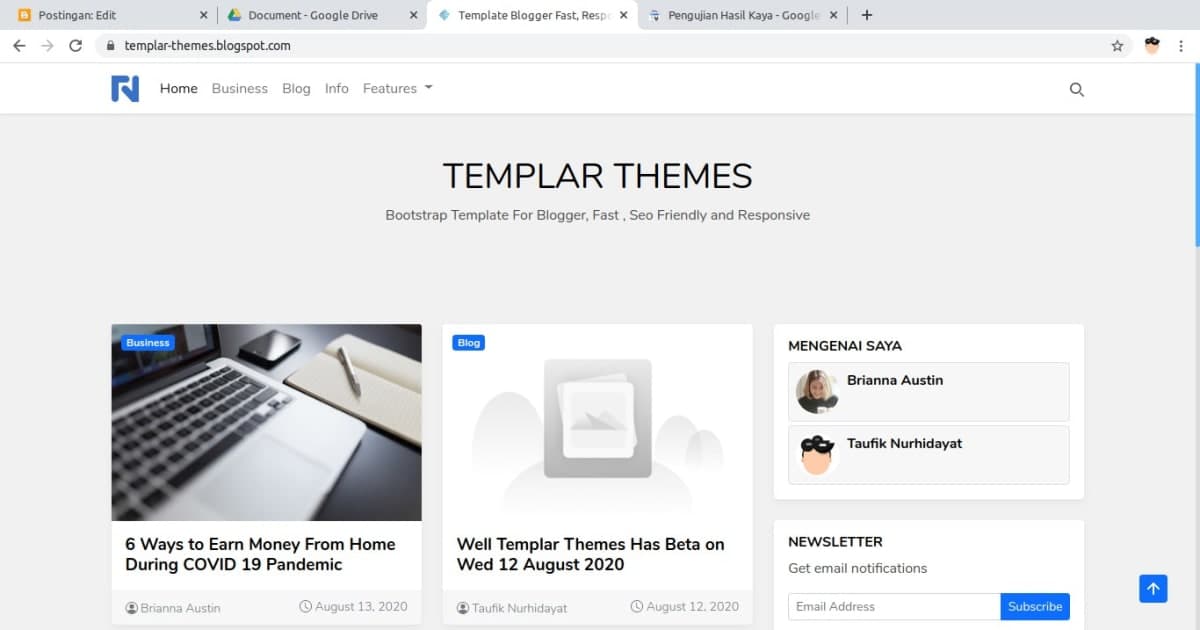 Download Simple Template Blogger Templar Gratis
Templar Themes adalah template blogger gratis yang dibuat dengan css framework bootstrap 5. 
Pratinjau
Berikut adalah fitur dan perubahan dari template tersebut.
Fitur:
-Lazysizes
    -Bootstrap v5 with customization
    -Automatic TOC (can change custom id)
    -Widget Ver: 2
    -Layout Ver: 3
    -Blogger Template Version: v1.3.0
    -Adsense Ready
    -Fast load
    -Responsive
    -Related Articles
    -Seo Friendly (it is teory)
    -Pass Rich Search Results
    -Using SVG Icons
Changelog:
21 Agustus 2020:
    - Realese beta v1.1
    - Remove header section 2
    - Change thumbnail ratio to 2:1
    - Fix bug search collapse
    - Set icon and animation dropdown toggle and search toggle
    - Adding Search with Ajax Loader
    - Add Contact Form Widget in Page
    - Fix HTML Widget Title
    - Functions Script load from Github
    - JSON+LD Add to index
    - Fix Adsense to bottom of the body (in middle post has been removed)
    - Adding style comment form message
    - Fix pre code scrollbar background
15 Agustus 2020:
    - Realese beta v1.0
Link download dan Demo
Versi beta 1.0
Download Download 2 Demo
Untuk pengaturan ada di halaman Pengaturan Templar Themes.
Template ini tidak ada update untuk jangka waktu yang lama